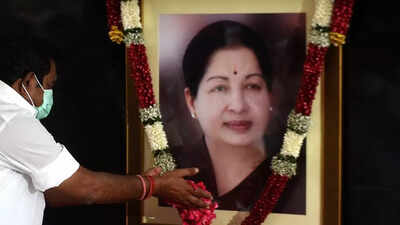 CHENNAI: Questioning the 'public cause' claim of the erstwhile AIADMK government and unjustifiable procedural lapses in acquiring former chief minister Jayalalithaa's house at Poes Garden to convert it into a memorial, the Madras high court quashed the decision on Wednesday.
Justice N Seshasayee, deprecating the attempt to establish another memorial when Rs 80 crore had been already spent in building a memorial for Jayalalithaa on the Marina, asked: "Is it not one memorial too many? What is the inspirational story that 'Veda Nilayam' may provide which the Marina memorial does not?"
The judge then directed the Chennai district collector to hand over the keys of Veda Nilayam to Jayalalithaa's niece J Deepa and nephew J Deepak, who are her sole legal heirs, within three weeks. As to the claim made by the income tax department over the properties of Jayalalithaa for recovery of pending tax dues to the tune of Rs 37.54 crore, Justice Seshasayee said: "The department is free to proceed for recovering any arrears of tax payable by Jayalalithaa."
In his order, the judge categorically dismissed the contention of the then state government that the conversion of the Poes Garden property into a memorial constituted public purpose.

FacebookTwitterLinkedinEMail