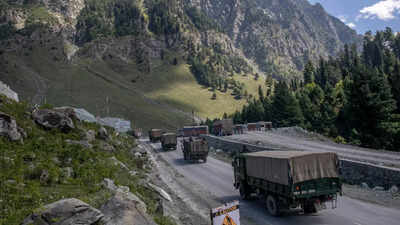 NEW DELHI: While acknowledging India's trade ties with China, foreign secretary Harsh Shringla said on Wednesday that there were outstanding issues related to the military standoff in eastern Ladakh that needed to be addressed before the two countries could get back into a "normal relationship mode". Shringla also said the government was carefully examining options related to India's trade and investment ties with China to ensure India's security and integrity remained intact.
"Trade continues, there are investment ties that continue but all of this has to be examined very carefully and the government is examining all these options very, very carefully to ensure that our integrity and security remain intact," he said.
India and China are locked in a military standoff in eastern Ladakh and India has repeatedly said it's important to resolve the issue for overall development of ties. Shringla said China had maintained an aggressive posture and attempted multiple transgressions along the border in eastern Ladakh and that wasn't conducive to peace and security.
"And as a result, we are not able to conduct normal relations. Having said that, of course, trade continues, import and export continues, China continues to be an economic partner," he said. "But obviously we need to today evaluate whether we are over extended in terms of our supply chains, in terms of our investment tie-ups, in terms of the technology that we get," he said, speaking at a seminar.
"We need to examine all of those very carefully to see that it is in keeping with our larger strategic and security interests and that obviously, as we move forward, our own economy grows, our own interactions grow," Shringla said, adding India had to ensure that it was not vulnerable in any way.
"We have resolved some of the (border) issues but there are still some outstanding issues and until we can resolve those issues, obviously we will not be in a normal relationship mode," he said.

FacebookTwitterLinkedinEMail