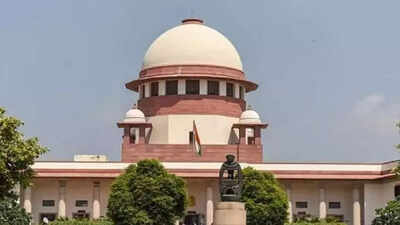 NEW DELHI: In its more than a decade long tryst with the issue of decriminalisation of politics and after passing several orders to bring perceptible changes in polity, the Supreme Court on Wednesday appeared to have reached a dead end over a year-old plea for imposing a life ban on convicted netas from contesting polls.
A bench of Chief Justice NV Ramana and Justices DY Chandrachud and Surya Kant indicated this after asking additional solicitor general SV Raju to spell out the Centre's view on the plea of advocate-petitioner Ashwini Upadhyay seeking a life ban on convicted politicians.
When Raju said he has to take instructions on this issue from Centre, the Supreme Court bench said, "It's almost 15 months since the court sought Centre's view. Are you willing to impose a life ban on convicted politicians? Unless the Centre takes a decision and consults the Election Commission for enactment of a law or amending the Representation of People Act, it is not easy for this court to decide the issue. The government has to decide whether or not to take the legislative route."
Upadhyay argued that conviction in a heinous offence disqualifies a person for the entire life to hold even the post of a constable. "But it does not disqualify a similarly convicted person from contesting polls and becoming the home minister," he said.
Referring to PILs filed by Upadhyay, the bench asked, "How many PILs have you filed?" It went on to give a back-handed compliment to Upadhyay and advocate ML Sharma, who was not present during the proceedings, for flooding the court with PILs. "A day is not far off when we have to set up a special bench to hear only the PILs filed by Upadhyay and ML Sharma," it said.
In Upadhyay's petition, the bench has passed numerous orders since 2018 to speed up long pending trials in criminal cases against sitting and former MPs and MLAs, including setting up of special courts.

FacebookTwitterLinkedinEMail